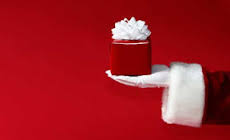 You asked for it, you got it: The Abel Intermedia Gift Guide 2014.
Okay, you didn't ask for it but if you are stumped on what to get the performer, guest expert or job seeker in your life, I've got some suggestions.
We all know we only get one chance to make a first impression, so give the gift of grooming: Hair cuts, facials, shaves, nail care. If LeBron James can love his mani-pedi so can you or your loved one. You'll find me at Dashing Diva.
For those times when we can't get out of the office and have to do the DIY tszuj, I swear by my Amika Mini Flat Iron. With New York City's unique brand of sideways rain, I often look like Veronica Lake on one side of my head and Franny B. Kranny on the other. The Amika is a life saver.
Gals know the importance of a statement bag but fellas need a quality Man Bag. Totes. There are handsome options at J. Crew, Barneys Warehouse and ModernManBags.com
Pull it all together with the wise investment of a consultation with personal stylist Pilar Steinborn.
Skyping, Google Hangouts and Self-taping are a business reality. Good equipment gives a competitive age:
A Diva Light – is a macro ring of light that enhances facial features, highlighting the eyes. Your camera – which will give a far better picture than your computer – can sit centered behind your light.
An iPad really? REALLY. Where there's an iPad there's a Teleprompter. I recommend Teleprompt+ worth it's whopping $14.99 to download.
And don't forget a Wireless Mic.
Gadgets and mani-pedis are fun to be sure but people forget how important it is to be interesting – and interested. Give tickets to a lecture series or help stretch the presentation muscle with Adam Wade's nearly-almost-always sold-out storytelling class.
Oh, and lest I forget, coaching and classes with me make a thoughtful gift too.
It's the holidays – share this post!