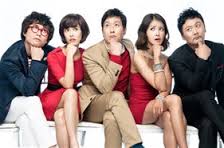 Hi Friends! Here's my latest fun casting opportunity. October Films is an absolute pleasure to work with and this is a great chance to get some screen time + experience in a studio.
Read through for details. Must be able to work NYC local. Hope to hear from you!
CASTING: Couples, Friends, Family and Duos who want to GET REAL.
October Films is producing a pilot for a major US network that gives you the chance to step into a room and ask loved ones questions you've always wanted to… but have been too afraid to ask.
It's all about honesty, intimacy and openness, an opportunity to be upfront and real with one another.
Are there questions you've always wanted to ask your husband or boyfriend?
Do you wish you could find out what your mom or sister really thinks of you?
Is there a long-lost family member or high school friend you'd love to get in touch with?
Do you and your partner wish you could ask some probing questions of the couple you consider your best friends?
SEEKING:
COUPLE: married, engaged or dating for at least one year. Late 20s to early 40s – all ethnicities.
MOTHER & DAUGHTER – mom should be 40s – 60s. daughter should be 20s or 30s – all ethnicities.
PAIR OF OPPOSITES: friends or family members with an existing relationship but who are physically and/or ideologically/politically opposite of each other. Think: big/small, fit/flabby, liberal/conservative, hip hop/country…
PAIR OF COUPLES: pair of sisters/twins and their boyfriends/husbands, Exes and their new partners, best friends who's BFs don't get along…
PAIR INTERESTED IN REUNITING: people looking to reconnect with a long-lost love or friend.

Shoots: one day shoot in NYC – week of February 16th (exact date to be confirmed)
Pays: $300 per couple + incidentals (i.e. parking)
Please email abelintermedia@gmail.com ASAP and be sure to include:
Full name | recent photo | contact info including day/evening phone
+ paragraph describing which category you fit and why you want to participate.