Warm hello from the Lazy Blogger. I have missed you. What pushed me to pop my head out of the deep, dark casting rabbit hole was this post about rejection from my friend and client, Dr Darcy Sterling.
It's a wonderful, healthy reminder that we all face rejection from time to time and that we can and will deal with it. I bid on jobs I don't get, clients quit…and I'm bracing myself as college acceptances (and rejections) come out next week for my daughter.
If you're not reading Darcy's advice column, you should be. You can subscribe for your daily dose of Straight Advice from a Not So Straight Source here.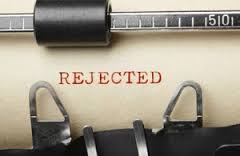 It was, after all, Friday the 13th.  Any reasonable person would have recognized the implications of receiving an email from a recently applied to graduate program entitled, Your Decision is Available Online Now, and the timing of said email. But I pride myself on not buying into silly superstitions. In the moments leading up to logging into my application account, I'd gone so far as to reason that it absolutely must be good news because, according to the graduate program's website, only the people on the short-list would hear by March 15th.  It had never occurred to me that I might be on the short list of the rejected applicants.
My decision to apply to Hunter College's MFA in Creative Writing was fueled by the sheer desire to learn how to become a great writer – a vast departure from what motivated me in the past to apply to schools – schools that readily accepted me. Historically, I chose programs and institutions based on the bragging rights that would come with successful completion. If you're not from New York City, you may not know that Hunter College is a revered institution and that the program I applied to is ranked 3rd in the country for non-fiction writing. The average college acceptance rate is around 15%. This program accepts 3%. And I was in the 97 percent.
I told people I was applying to this program. I told a lot of people. I told people who look up to me, who I know have weathered rejection in their own lives and are gun-shy of taking risks as a result. I wanted them to see in me a willingness to brave rejection in their presence. It's easy to face rejection when in your heart you don't think there's a chance in hell of it happening.
So here we are, three days later. I spent the weekend deeply pondering my hurt feelings, committed not to glossing over them, which is my inclination. It was, after all, a loss and a disappointment. My friends and family members reacted supportively, their responses varying from 'Suck it Hunter College!' to 'They will regret it when you become a best selling author!' And then there was my loving wife, who said with the deepest sincerity, 'They probably didn't think you needed the program, so they saved it for someone who did.'
I'm still a little winded, but I know I'll survive. And I'm sharing my story with you to underscore the reality that we all experience rejection. And there's nothing to be embarrassed of. Even if right now, I'm feeling a little embarrassed.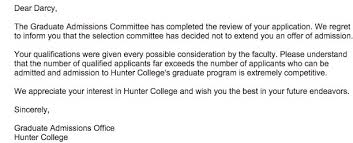 You know a part of me wanted to hit reply and say, "That's Doctor Darcy to you, Bitches."
You can follow Dr Darcy on twitter.  I'm on twitter too. xo