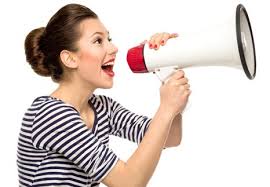 ICYMI corporate and personal manifestos have replaced mission statements. Manifestos are not new and they are all around us. The Declaration of Independence is a manifesto as is Dr King's I Have a Dream speech.
This is what a good manifesto does: Clarifies your vision and purpose while connecting us to you emotionally.
Once you figure this out you are well on your way to understanding your brand. Which is the point of this blog post. As my business evolves so must my manifesto.
It occurred to me my about.me profile is a kind of manifesto – and I still stand by it:
WHAT I DO: I find hosts and experts for tv shows and branded entertainment. I adore writers and comedians and chefs and tech geeks and fashionistas and decoristas and inspiring visionaries and dreamers of all stripes.
WHO I AM: I'm a creative professional who believes everyone has a story to tell and I help people find their authentic voice.
POV: My glass is always half-full.
ABOUT ME:I love my family, the beach, grosgrain ribbons, reading cookbooks in bed, 50s fashions, 60s soul music, 80s Britpop, peonies, dry martinis, spy novels and the New York Rangers.
CALL TO ACTION: Stay curious.
I first noticed manifestos as a business trend a few years ago when I happened on designer/home goods purveyor Jonathan Adler's manifesto on the back of a design book and on his blog:
WE BELIEVE that your home should make you happy.
WE BELIEVE that when it comes to decorating, the wife is always right. Unless the husband is gay.
WE BELIEVE in carbohydrates and to hell with the puffy consequences.
WE BELIEVE minimalism is a bummer.
WE BELIEVE in our muses: David Hicks, Alexander Girard, Bonnie Cashin, Hans Coper, Gio Ponti, Andy Warhol, Leroy Neiman, Yves Saint Laurent, and Madonna.
WE BELIEVE in being underdresses or overdressed always.
WE BELIEVE colors can't clash.
WE BELIEVE dogs should be allowed in stores and restaurants.
WE BELIEVE celebrities should pay full price.
WE BELIEVE our lighting will make you look younger and thinner.
WE BELIEVE in highbrow books and lowbrow music.
WE BELIEVE in the three Ls: layers, layer, layer.
WE BELIEVE subversive is superior.
WE BELIEVE in irreverent luxury.
People go nuts for the Holstee Manifesto but I'm Team JA all the way.
As I type, my manifesto is a work in progress. Thanks for indulging me. I think I need to lighten up. My final version will go up on my website in the new year.  Inspired by Jonathan Adler, this is what I have so far:
BBA MANIFESTO
I believe in human potential.
I believe that reading is fundamental. You are never alone with a good book.
I believe wholeheartedly that reinvention is possible at any age.
I believe Becoming is the 8th plot (with all due respect Christopher Booker.)
I believe everyone looks good in pink.
I believe anyone can develop their charisma.
I believe saying Thank You costs nothing yet the returns are huge.
I believe being present is a gift and a contemporary super power.