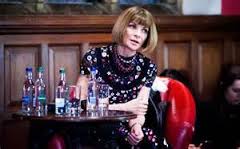 I am an unabashed Anna Wintour fan.
At an age when most people are slowing down for retirement (she'll be 66 in November) Anna is firing on all cylinders: Editor of Vogue, creative director of Conde Nast, career maker, cultural influencer, economic driver.
Of course I find her hugely intimidating. As a talent executive on the VH1 Fashion Awards I was a recipient of the famous Anna Wintour death stare. But all these years later I have come to admire – and aspire to – how comfortable and unapologetic she is with her power.
I respect that she's a mentor, good friend and great mom. She's one of the fierce, fearless women spirit guides on my vision board.
Recently, Anna gave an address at the  Oxford Union – which is the actual reason why we are talking Wintour in summer.
Loyal readers of this blog and my twitter will recognize I've been pulling from the Wintour playbook for years without knowing it.
Please watch the full address and the  Q&A afterwards. In the meantime, here are my Cliff Notes:
Don't get too specialized.
In our niche world, don't be too narrow. People who are very narrow in their focus are really frustrating.
Be curious. Be open to ideas. Have multiple interests and skill sets. Be intellectually free, try different things. Don't close your mind.
Don't be too insular. Embrace change. Be a fearless polymath.
(Attributes Anna Wintour looks for in a job candidate: Hardworking. Passionate. Creative. Curious)
Understand the nuts and bolts of how something works.
It makes you better at what you're doing; more than being good at one thing (know the industry you're in – BBA)
Tiny budgets are a gift. It's why the best editors and artists are from the UK in her opinion. They have to be creative to do more with less (um, hi, cable and Netflix vs broadcast television – BBA)
Starting out at Harpers & Queen magazine AW had to do it all: find the clothes, hire the photographer, go on shoots, write the captions, check the prices…
Don't discount experience and training.
Very few people are ready to run their own thing right out of school.
Work with the best. Learn from the best. Enjoy the freedom to try various things and make mistakes.
It's not especially difficult to be famous nowadays with no grounding and no substance. Fame doesn't necessarily translate into success.
Seek to be relevant, agile and educated. Be proactive in times of hardship.
Understand the digital world in order to be a part of it.
Point of view. Point of view. Point of view.
The one thing AW looks for whether it's in a collection, a piece of writing, a photographer or a job candidate is a point of view.
This is a real cultural moment when your opinion matters: cultivate your taste.
The more you travel, the more you see, the more you experience, the more you bring back to your day job.
The more you do, the more you can do.
Remember (or learn): How to shake hands, look someone in the eye and have a conversation.
When you live with intention you create the space to achieve excellence in every sense.
No matter what stage of life you're in, get outside of yourself and your ambitions to think about how to help those less fortunate.
Bonus feature: 73 Questions With Anna Wintour